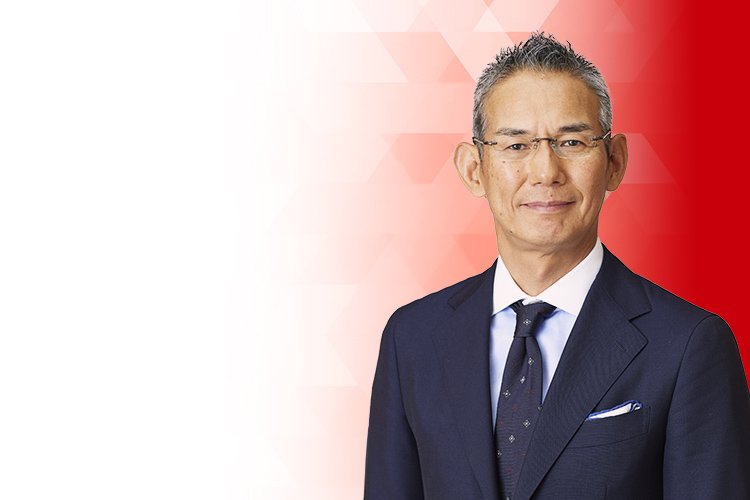 We would like to express our sincere gratitude to our shareholders for their continued support.
We are celebrating the 50th anniversary of the initial public offering, counting from the listing on the Second Section of the Nagoya Stock Exchange in 1971. The scale of our company has expanded from the annual sales of 10 billion yen at that time to the group companies of about 80 billion yen now.
We would like to express our sincere gratitude to our shareholders for their support.

By the way, the Group has started a new Medium-term management plan "Next Evolution 2023" from the current fiscal year.
In anticipation of the advent of a distribution dark age, such as Japan's declining population, shrinking consumer market due to declining birthrate and aging population, and intensifying competition, we will transform and evolve our business model to achieve both sales growth and profitability improvement. We will move toward the next goal of "Direct Marketing Conglomerate (DMC)

Strategy".In the current fiscal year, we are working to build a business model by providing new value and to promote growth strategies in the solution business.

Regarding the business results for the first half of 2021 (April 1, 2021 to September 30, 2021), while the impact on the market due to the spread of the new coronavirus infection remains more than initially expected, maximizing profits in the mail-order business As a result of various efforts to achieve this, we achieved record profits in the first half of the fiscal year.

In the second half of 2021, we anticipate that the environment surrounding our company will be more difficult, but based on the medium-term management plan that continues to advocate a "transformation and evolution of DMC", we have a balanced management that is not affected by deterioration of the economic environment or external environment. We will strive for the management of.

At the same time, in preparation for the transition to the "prime market" in the market restructuring of the Tokyo Stock Exchange scheduled for April 2022, we will strengthen governance and improve the system, aiming to further improve corporate value. We will promote efforts toward the realization of a sustainable society.

We would like to ask our shareholders for their continued understanding and support.
November 2021
President Tomohisa Tsurumi