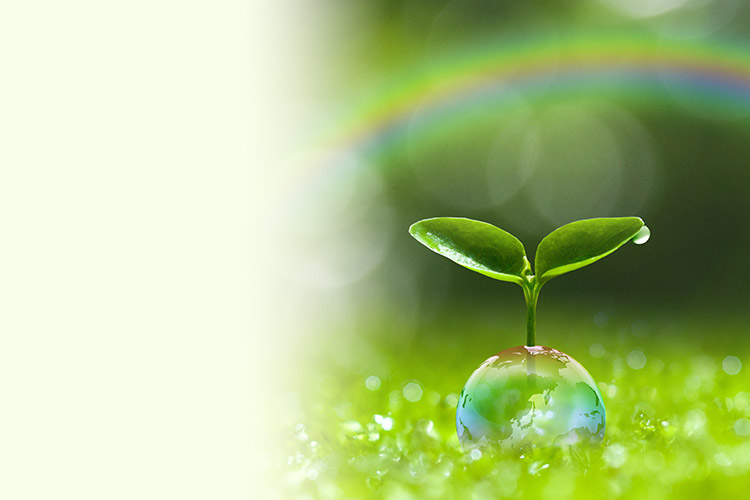 Thinking about the environment
The SCROLL Group will set goals in line with the following environmental activity policies for the environmental load that may occur in corporate activities,and will contribute to reducing the environmental load of the entire value chain through its business.
Environmental activity policy
(1)We will promote the provision of safe and secure products and services with less environmental impact.
(2)Promote reduction of waste and greenhouse gas emissions.
(3)We will promote the use of environment-friendly resources and the recycling of resources.
(4)We will promote environmental communication, such as educating employees and promoting understanding of our business partners.
(5)We will regularly verify and announce the results of our goals and promote continuous improvement of environmental performance.
CO₂ reduction targets / measures
Reduction target
The SCROLL Group aims to reduce CO₂ emissions from Scope 2 (*) by 50% or more by FY2030 compared to FY2020.

*Indirect discharge due to the use of electricity, heat, and steam supplied by other companies.
In the Group, CO₂ emissions from distribution centers and offices fall under this category.
Reduction measures
We will implement the following measures to reduce CO₂ emissions.

■Installation of solar power generation system We are planning to install a solar power generation system in the Logistics center. We will conclude a power sales contract (PPA) with Electric Power company to promote the purchase of renewable energy generated by solar power generation systems.

■Purchasing CO₂ Free Electricity We will proceed with efforts to purchase electricity derived from renewable energy from Electric Power company.

■Inverter control of air-conditioning cooling equipment We will reduce the amount of electricity by introducing control equipment to the air-conditioning cooling equipment of SCL Hamamatsu Nishi.

■Switching to LED lighting We will change the lighting in our facilities to LEDs and contribute to the reduction of CO₂.
Efforts to reduce environmental impact through business activities
We will proactively reduce the environmental burden through our business activities.

■Expansion of SDGs-related products We will promote the development of environmentally friendly products, products that inherit Japanese traditions and technologies, and products that can contribute to society.

Goal
50% of SDGs-related products by FY2025 (apparel products)

■Reducing the amount of plastic materials used We will promote the switch to environmentally friendly packaging materials.

Goal
65% reduction in plastic material usage by FY2030 (compared to FY2021)

■Reduction of paper usage We will reduce the amount of paper used by reducing the number of copies and pages of the catalog and promoting the transition to the WEB catalog.

Goal
25% reduction in paper usage by FY2030 (compared to FY2021)